I've missed doing these. Fashion is an art form to me on every level and my attitude is always: go big or go home. For the dark side fashionista, Marc Jacobs did not hold back and despite our morbid fascinations, this runway might just give you life.
A Brief Summary:
Overall, the line is reminiscent of traditional 80s goth fashion. Mostly done in black, white and all the shades of grey, what impressed me were the silhouettes. Oversized jackets, massive draping skirts, a brief exploration in waistlines; I might drown in it all. The only thing I wasn't too crazy about were the purses. They were of an appropriate size for everyday use but got a little lost in the folds of wool and fur against some outfits. They're lovely, I just wondered how they fit into everything. The combination of different fabrics was like poetry, and just elevated this Ready to Wear line to a "why isn't this Haute Couture?" status. It will be interesting to see what ends up actually in the stores, and who is bold enough to wear some of these designs. Never mind the shoes because every goth kid I know is going to want the shoes.
The Fabulous Five:
I used to do an ensemble to ensemble walk through, but we're trying something new. These are the five I would leap at a chance to wear and god knows I'd wear one until the day I die.
No. 5- Come Through Mama Take notes, because whenever someone says "come through, mama" you want to emulate everything this model gave you. Her walk is something worth noting and probably the best walk in the entire show. I'm not ecstatic about the outfit, I don't like anything cinched at the waist like that, but she makes me want this.
No. 4- Take It All In and Put It On a Jacket It's easy to find a denim jacket in most thrift stores these days, if you're feeling crafty. I don't even think this is a lot of stuff per say, it's the variation of size in the charms that lend to the illusion. Pay close attention to the textures, some things looked painted, others embroidered, and is that a Mickey Mouse Patch? Who knows! But it's majestic in its complexity. I really want to make one of my own.
No. 3- All Your Lace Belong to Me I can't help it. It's like Betsy Johnson got her hands on the basic version of this from Forever 21 and just stitched all the pieces together. With Marc Jacobs, I wish there was more. A train, bustles, accents on the hips shaped like giant roses, something that tied into the other pieces more. It reminds me a little of Sebastian Columbine and her style now. I'm into this, but I'm more in love with the shorts.
No. 2- Mystery Every adventure needs at least one character like this. Bold in their presence, but relaxed in the fit. Mystery just oozes off of them and they don't care if you solve it. Also, the contrast in stripes is so nice, check the tights.
No. 1- Dress Me In This I would look like the Queen of the Void, draped in nightmares, fused with a champion's spirit…sorry, getting carried away. It's purple and black, so I love it. Long sleeves, floor length and the gloves don't hurt the look. The details add enough to make it look fancy, but it's "spoken, not shouted". My favorite part of this is the back, and if you click the caption, you can fall in love with this.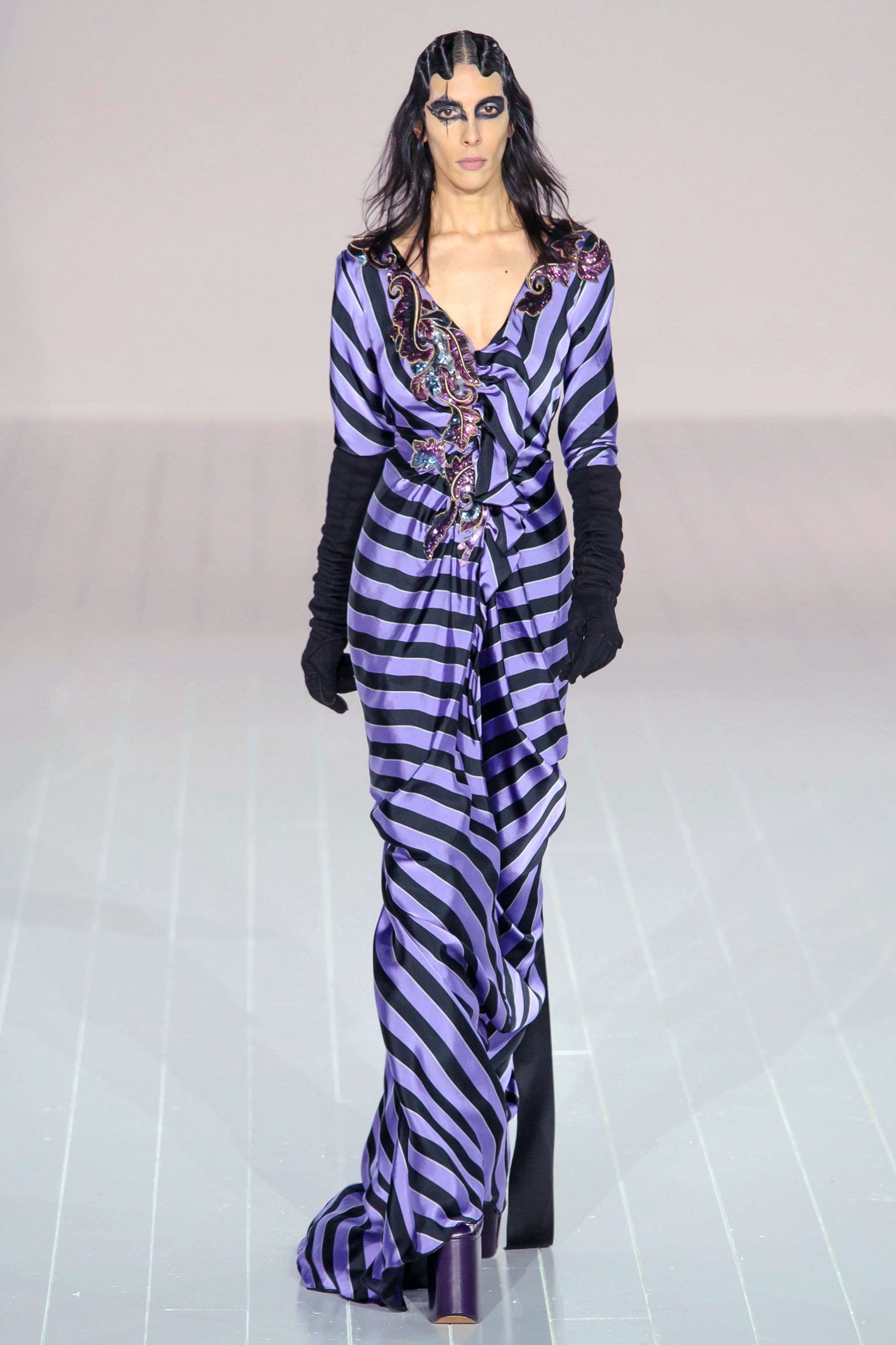 Final Words: If you're still a little lost, Francois Nars gave some insight while chatting with Into the Gloss. 
"I think [the six looks] give a really good range and was enough to tell the story of the girl Marc had in mind. The inspiration comes from different singers like Alice Cooper or those night performers–very New York, very underground. It' a pretty dramatic look and more extreme than anything you've seen this week. Some have dark eyes with very strong liner and no lips. Not much foundation, a little bit shiny and not like a cosmetic look. We like to be away from anything that's too perfect, like foundation and lipstick. All the eyebrows are gone because it gives a much blanker canvas so you can really restructure the whole face and you can make the eyelid really big…it just changes the whole face."
What do you think? Is it everything you've ever dreamed or a little too much fashion and not enough darkness? Or to wait and see what other inspirational shows, follow this blog by clicking "Join the Strange Collective" at the top of this page. Follow me on  Instagram,Facebook, YouTube, and now Twitter., and if you'd be so kind, to stop by The Dream Lounge.
Until next time,
Don't be hungry for life. Be ravenous.
Zakkarrii Edison Daniels